---
Debuting in Albany!
"Passion, Courage, Conviction"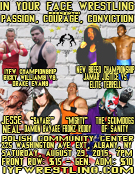 Saturday, August 29, 2015, 7pm
Polish Community Center
225 Washington Ave. Ext.
Albany, NY
Front Row: $15
Gen. Adm.: $10
Featuring: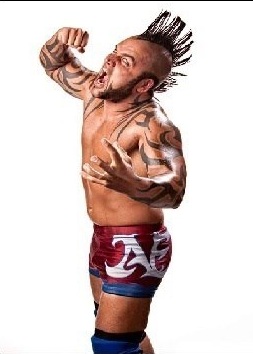 Jesse Neal
Former TNA Superstar
IYFW Championship:
Ricky Williams challenges Drake Evans
New Breed Championship:
Jamar Justice challenges Elite Terrell
Tag Team Championships:
Northern Fury challenges The Scumdogs of Sanity
The "Right To Fight" scramble match:
Gabriel Soul vs. Roman Dominguez vs. Trip vs. Cassius Cutcher vs. Lance Madewell vs. "Real" Rob Coleman
Damon Ravage vs. Fronz Roddy
Zack Clayton & The Dawg Pound vs. Tyler Vincent, Garrett Holiday & Rickety Rocket
Plus:
CJ Scott
Chip Stetson
Thomas Brewington
Eric Emanon
Dewey Murray
Myzery Barbarians & Damian Barbarian
Salvatore Morocco
Shooter Storm
IYFW Academy graduate Zane Maverick
IYFW Academy graduate Kameron Yates

Tickets will be available at the door, or
visit Toying Around, 17 West Main St., Johnston, NY
Bally Total Fitness, Lower Level, Crossgates Mall
Sports Plus, Clifton Park Center
---
"In The Crosshairs"
Saturday, October 10, 2015, 7pm
Polish Community Center
225 Washington Ave. Ext.
Albany, NY
Front Row: $15
Gen. Adm.: $10
---
Our anniversary event:
"Season 9: Proving Grounds"

Saturday, November 7, 2015

Duanesburg Area Community Center
221 Victoria Drive
Delanson, NY
---
Other upcoming appearances:
---
FantaCon
August 29-30, 2015
Empire State Plaza Convention Center
---
Scareacon
September 11-13, 2015
Turning Stone Resort & Casino, Verona, NY
---
Albany Comic Con
October 4, 2015
10am - 5pm
Holiday Inn, 205 Wolf Rd., Albany, NY